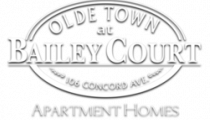 Frequently Asked Questions
Are utilities included in rent?
No, water is charged at a flat rate based on apartment size and is payable with your rent each month, electricity and gas must be in the resident's name.
Is renter's insurance required?
Yes, proof of renter's insurance is required prior to move in and must be maintained throughout the lease.
How do I pay?
No payments are accepted in the office, you can pay through your resident portal with e check which is free, major credit card for a fee starting at $6.95, or by MoneyGram for a fee of $3.99
Does your property have assigned parking?
No, parking anywhere other than in a parking space is not permitted.
Where is your central location for mail?
Front of property beside Building 5
Does the property have an onsite laundry facility?
Yes, our facility is for residents only.  Keys are given to new residents at move in.
Does your property have washer and dryer connections?
Select apartments have connections there is an addition $50 charge per month.
Do you offer short term leases and what are the costs?
Yes, there is a charge for short term leases. See below: 3 Month Lease: $100 6 Month Lease: $ 75 9 Month Lease: $ 50
Is your property income based?
No, but we do require proof of income 3 times the amount of rent.
Are you a gated community?
What are your application fees?
$50 Application fee for each applicant over the age of 18, $100 Administration Fee per application